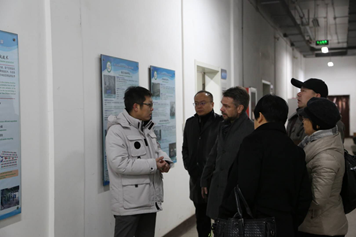 Helena Di-Heil, Chairman of Shenfu Group,andDr. Stephan Huttmann, CEO of SENSATEC GmbHvisited Institute of Process Engineering, Chinese Academyof Sciences on 12th, December, 2018. Topics of "Deepening strategic cooperation" and "Joint laboratory" were discussed with Dr. HaoDu from Institute of Process Engineering.
Firstly, Dr. Hao Du madea detailed introduction of engineering laboratory overview, laboratorycharacteristic research direction, achievements and future planning anddevelopment ideas. Then Helena Di-Heilintroduced the purpose of the visitand information about Shenfu GroupandSENSATEC GmbH, a wish of friendly relation andcooperation was expressed at the same time. The two sides exchanged views onthe issue of "Joint laboratory".
Finally, the laboratorywas visited by the guests accompanied by Dr. Hao Du.